We present a new teachers couple
Irene and Karim! They will be teaching Salsa LA with us starting with a Fast track course on the Friday evening as of January 11.
Read all about Irene and Karim
Weekly Social
Every Thursday evening from 22:30 till midnight you can enjoy our Weekly Social!
On a weekly basis LAfrique Dance Company organizes a free and open for all Salsa, Bachata and Kizomba Social.  Practice your cool moves, have fun and don't forget to invite your friends!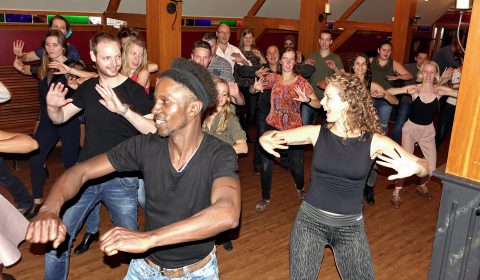 New: The LAfrique show team!
We are very proud to present to you… our own LAfrique Rueda show team!
So far we performed a show at our own Festa LAfrique Pool Party and the Garden Concert of Amigos Latinos in Ruurlo.
Be prepared to see more of us!
Discover your next addiction
Join LAfrique!
Great teachers
Our team consists of enthusiastic and experienced teachers, each with their own speciality and years of dance experience in several dance styles. With passion we teach you the steps and patterns, technique, connection and musicality but most of all our classes are fun!!
Curious about the team? Let us introduce ourselves….
Diverse Dance styles
At Lafrique we offer you a diverse range of dance styles. Come join us for the Latin dances Salsa LA, Bachata, Salsa Cubana, Rueda de Casino or the African dances Kizomba, Semba and Tarraxinha!
Each dance has it's own characteristics. Some sexy and energetic, others sensual and grounded.
Discover your next addiction…
Awesome events
LAfrique regularly organises socials, parties, bootcamps, workshops and more.
Festa da LAfrique is a well know party that attracts dancers from afar. A Typical Festa da Lafrique starts of with an energetic workshop by LAfrique or guest teachers. Top guest DJ's bring the best beats to Wageningen.
Check our calendar…